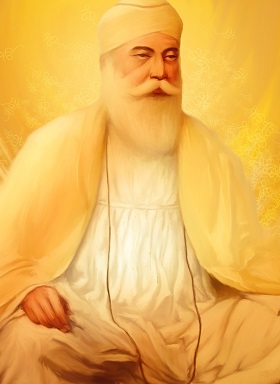 First Guru of the Sikhs:
Nanak Dev, a 15th Century poet born to a Hindu family, became the founder of Sikhism when he broke away from ritual worship, idolatry, and the caste system. As a child he showed a spiritual nature in a series of miraculous events. Upon attaining enlightenment, Guru Nanak traveled extensively preaching the concept of one God. He composed poetic verses in praise of Ik Onkar, one creator. Eventually he attracted a following whose fellowship came to be known as Sikhs, or seekers of truth, who related to Nanak as their personal guru or spiritual guide to enlightenment. Nanak Dev is known today as the first guru of Sikhism.
Origins and Childhood:
Nanak Dev was born and raised in the village of Talwandi, (modern day Nankana, Pakistan) in Northern Panjab. Nanak was named for his elder sister Nanaki. They lived with their mother, Tripta, and father, Mehta Kalu. The family shared a house with Kalu's father, Shiv Ram, his mother, Banaras, and Kalu's younger brother Lalu. Nanak had the job of herdboy and spent hours meditating while tending the family livestock. He got in trouble with his father when the herd destroyed crops. The village chief, Rai Bullar, found the crops restored. He witnessed several other miraculous occurrences, and thought Nanak to be a saint.
Spiritual Calling:
Rai Bullar arranged for Nanak to go to school. The boy amazed his teachers with spiritually poetic compositions. When it came time for Nanak to undergo the Hindu sacred thread ceremony he refused to take part. He stated that his thread would be one of mercy and contentment, knotted with restraint, and woven of truth, which would neither burn, be soiled, nor lost, and never wear out. Nanak refused to observe the caste system or take part in ritual idol worship.
Marriage and Family Life:
Nanak Dev's father Kalu thought his son's spiritual ways to be irresponsible and attempted to engage him the the trade business. Nanak's idea of being a merchant and earning profit was to feed the hungry. Nanak's sister Nanaki and brother-in-law Jai Ram helped to arrange a marriage for Nanak with Sulakhani, the daughter of Mul Chand Chona. The couple were betrothed when Nanak was about 14, and married when he was about 17. They had two sons Siri Chand and Lakhmi Das. Nanak went to live with Nanaki and her husband, Jai Ram, in Sultanpur where he found work managing government grain distribution.
Travels:
Nanak Dev kept company with Mardana, a Muslim minstrel, in Sultanpur where Nanak attained enlightenment. He and Mardana embarked on a mission to preach the concept of one God. Over a period of about 25 years, they made five journeys throughout India, traveling as far south as Sri Lanka, visiting the Eastern provinces of India, touring parts of Tibet and China, and making inroads into the Arab territories.
Concept of Sikhsim:
Nanak developed a monotheistic faith denouncing idolatry and veneration of deities. His teachings featured:
1. Emphasis on daily worship and engaging in a personal relationship with the divine through meditation.
2. Life as a householder engaged in honest employment.
3. Ethics of altruistic service and the sharing of honest earnings.
Nanak set about abolishing the hierarchy of caste. He established ideals of equality for women, and spoke against sati , the burning of widows.
Philosopher and Poet:
Nanak penned 7,500 lines of poetic verse which were later included in the scripture of the Guru Granth Sahib. He dedicated his life to travel with the aim of sharing his new found philosophy. Nanak sang his inspirational compositions, accompanied by Mardana on the rabab, employing music as the medium to deliver his message. Nanak and Mardana stopped over in Multan, where Mardana breathed his last. Mardana's son, Shahzada, followed in his father's footsteps, and served as Guru Nanak Dev's minstrel for the rest of the Guru's life.
Choosing a Successor:
Guru Nanak settled in Kartarpur for the remainder of his years where he built a fellowship of followers. His eldest son, Siri Chand, had been adopted as a child by Nanak's sister, Nanaki. He grew to be a aesthetic yogi and founded the Udasi sect. His other son, Lakhmi Das, married and lived the life of a householder. Lehna, a follower of the Hindu goddess, Durga, heard the hymns of Guru Nanak and became his ardent disciple. He dedicated his life completely to serving the Guru and his followers. Guru Nanak tested Lehna and found him worthy to be his successor. He named Lehna "Angad," meaning, "part of the original".
Important Dates and Corresponding Events:
Dates correspond to the Nanakshahi or Sikhism calendar.
Birth: Talwandi – April 14, 1469. Nanak lives with elder sister Nanaki, mother Tripta Devi, and father Mehta Kalu. The family shares a home with Nanak's grandparents, Kalu's father Shiv Ram, his mother Banarasi, and Nanak's uncle Laal Chand or Lalu, Kalu's younger brother.
Marriage: Batala – September 24, 1487 A.D. (Bhadon Sudi 7, 1544 SV). Nanak's family arranges his betrothal at age 14. At age 17, he marries Sulakhani, daughter of Mul Chand Chona a resident of Batala of Gurdaspur, originally of Village Pakkhoke near River Ravi. The couple have two sons Siri Chand (1494) and Lakhmi Das (1497).
Becomes Guru: From birth. Formally – Sultanpur 1499. Nanak lives with Nanaki and her husband, Jai Ram, in Sultanpur where he attains enlightenment.
Travels: 1499 – 1524. Nanak and Mardana tour and preach in parts of India, Sri Lanka, Tibet, China and Persia.
Death: Kartarpur – September 22, 1539. Nanak appoints Angad Dev his successor.